We always try our best to provide the right quality parts for Earth moving, Rock drilling & mining, Ground engaging and Construction Equipment spare parts. We are happy and eager to support our local client and overseas buyers. Please do not hesitate to contact us anytime and see below for more details.
- Construction equipment spare parts
- Crawler Drill, Drifter, and Drilling rig parts

- Shank, Rod, Button Bit

- DTH Hammer and Bit

- Attachments for an excavator such as Hydraulic Breaker, Hydraulic Crusher, Hydraulic Shear(Beam, Steel Cutter), Vibro Hammer, Bucket, Clamshell Bucket, Quick Coupler, Grapple, Compactor, etc.

- Attachments for a forklift like Side Shift, Hinged Bucket, Fork Positioner, Load Stabilizer, Rotating Fork, Drum Picker, etc

- Undercarriage parts like Idler, Upper roller, Lower roller, Track chin, Sprocket, Segment, Track shoe assy, etc

- Hydraulic Pump, Swing motor and Travelling motor parts such as Cylinder Block & V/V Plate, Piston Shoe, Set(Retainer) Plate, Ball Guide+Spacer, Shoe Plate, Support & Swash Plate, Drive Shaft, Spacer, Coil Spring, etc

- Seal Kit (Arm, Boom, and Bucket Seal Kit)

- Diaphragm (Membrane)

- Piston Ram for Concrete Pump Car

- Excavator spare parts

- Generator

- Machine (Excavator, Auger Drill Machine, Truck Mounted Drilling Machine, Asphalt Distributor, Asphalt ROLLER, Mobile Crane, Mobile Crusher, Crane, etc

- Other things requested by the buyer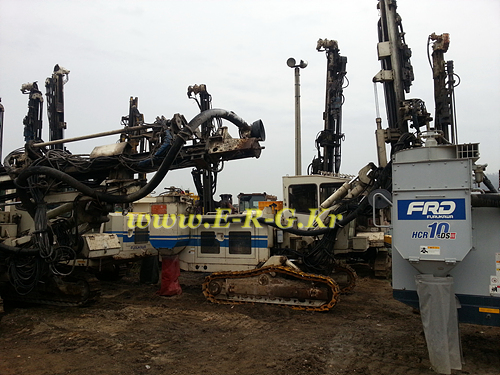 Used Drilling Rig HCR9, HCR10-DS